Thanks for joining me on Amaze-ing Words Wednesday. I've been through the labyrinth of holiday shopping (it really is a MAZE out there) and have returned to give you more ideas of what to buy the language lovers in your life.
So far I've covered holiday gift ideas for the Grammar Geek and the Word Lover. Today's offerings are for the Book Reader in your family-and-friends circle. Of course, the obvious present for the Book Reader is books. More and more and more books! However, they will also enjoy book-related items that remind them of reading when they can't actually be reading.
Note: Clicking on any picture below will take you to a purchase site.
Reading Journal. While some avid readers may track online or with software, others prefer to jot down what they've read and their thought on the books. You can find some lovely reading journals at local bookstores, such Barnes & Noble, Half Price Books, or your indie shop. Amazon also has a selection, including this mini-journal which can fit into a purse.
Tote bag. I've gotten so many free tote bags over the years that I can't ever make a good case to buy one of these. But if I got one as a gift? There are some wonderful book-themed totes.
Bathtub caddy. What's better than a drink, a book, and a bubble bath for the bookish on your list? Having dropped my book in the tub more than once, I can honestly say that a caddy would be nice. Those pages never really dry out the same. Be careful with the cheaper metal ones, as they can rust. Here's one made of bamboo from Linens -N- Things.
Silver book charm. You can find silver book charms online. Among my favorites are the following book cover charms from Etsy and a beautiful sterling silver charm from James Avery that can be engraved.
Bookplate Labels. Make your reader happy with bookplates for their library. We book lovers tend to loan out books to others ("You must read this!"), but we do want our treasured books back ("My precious"). Bookplate Ink offers a variety of beautiful, high-quality bookplates or you make your own with the Avery bookplate labels template.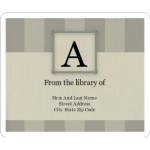 Book cover poster. If your book lover needs to cover a blank wall, help them out with some vintage book cover art. Art.com and AllPosters.com carry quite a few book cover posters which run about $20-$25 for a 12 x 16 print.
Literary Dolls. Move over G.I. Joe and Barbie, it's time for the Oscar Wilde and Charles Dickens action figures!
Unless your reader would rather have an Edgar Allan Poe or Mark Twain bobblehead:
You can find many other author dolls online such as Anne Bronte, J.R.R. Tolkien, Maya Angelou, and James Joyce from Uneek Doll Designs. Here's a mystery lover's favorite, Agatha Christie.
Coasters. Your Book Lover may need somewhere to place their drink while they quench their reading thirst.  Zazzle.com has a wonderful collection of coasters for book lovers.
What else would a book lover enjoy getting for the holidays? What book-related gift have you enjoyed?